Theses at the Royal Academy of Arts, The Hague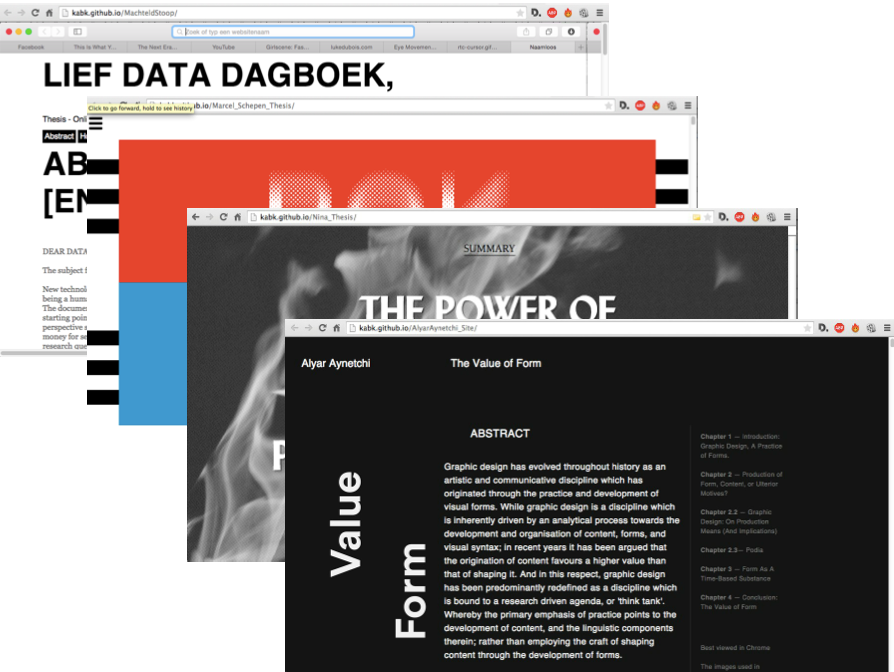 The Royal Academy of Arts in The Hague, The Netherlands runs a well-known Graphic Design Bachelor program. In recent years head teachers Roosje Klap and Niels Schrader have reinvigorated the program with a focus on social responsibility and the appropriation of digital technologies. Each year in the four-year program features as a subject both Coding and Interaction Design.
The Bachelor thesis has been an important part of the curriculum for many years. It allows the student to research into a specific area of interest and will provide a theoretical foundation for their final exam project. The theses have traditionally had a final output form of a printed publication: these are archived in the school libraries. With the curriculum placing more importance on digital design, the nature of the thesis is open to be re-imagined.
The class of 2015 are the first to create a version of their thesis designed for the screen. These theses are gathered online, and also available through the website presenting the students graduation projects, whileyouweresleepingkabk.com. This article details the workflow chosen to create these digital theses.
Life after the template
The form of the thesis in art education is distinct from the papers written at Universities, especially seen in relation to the role of the template. The challenge has been to come up with a workflow for creating digital theses that gives the students the needed flexibility to express their ideas both in writing and design.